Learn More About Our Ashland, MA Developments:

About Ashland, MA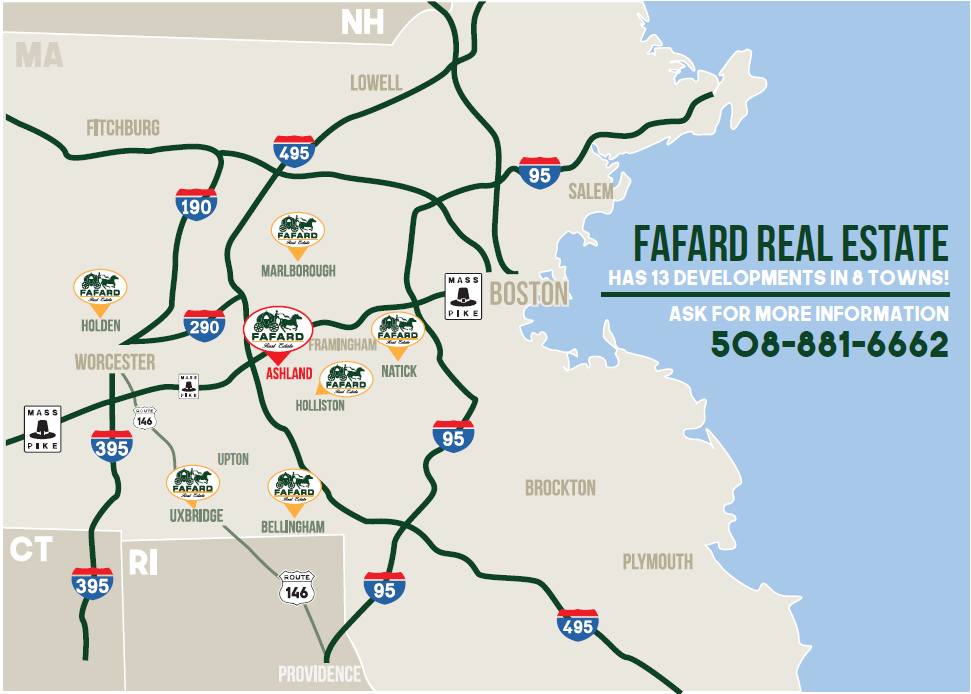 Located between Boston and Worcester, Ashland is conveniently situated near a commuter rail and major highways. Principal highways are state routes 126 and 135. The Mass Pike (I-90) is easily accessible in the neighboring town of Framingham.

Over the years Fafard has built over 1200 townhomes in 5 Ashland communities including Village of the Americas, Thousand Pines, Spyglass Hill, Leland Farm, and Pine Lake. These are all completed now, however these townhomes still come on the market for sale and we are the experts who are best equipped to help you find your next home.
This unique community is known for its outstanding school system. The area abounds in activity with 3 state parks, picnic areas, recreation fields, downtown children's park, theaters, the famous John Stones Inn, museums, YMCA, and much more. Nearby there is a regional mall and several grocery stores.

Area Attractions: Town Library, Ashland State Park, Hopkinton State Park, Callahan & Cochituate State Park, New England Aquarium, Capron Park Zoo, and Franklin Park Zoo.

Schools:
Ashland Pre-School
Ashland Kinder Care
Pincushion Hill Montessori School (PK-5)
Henry E Warren Elementary (K-2)
MetroWest Christian Academy (K-5)
David Mindess Elementary School (3-5)
Ashland Middle School (6-8)
Ashland High School (9-12)
Willow Wind CLC (Special Education)

Local Restaurants:
Ashland Ale House
Sunnyside Cafe
Ashland Pizza Palace
Hanto Restaurant
TJ's Food and Spirits
Marathon Deli